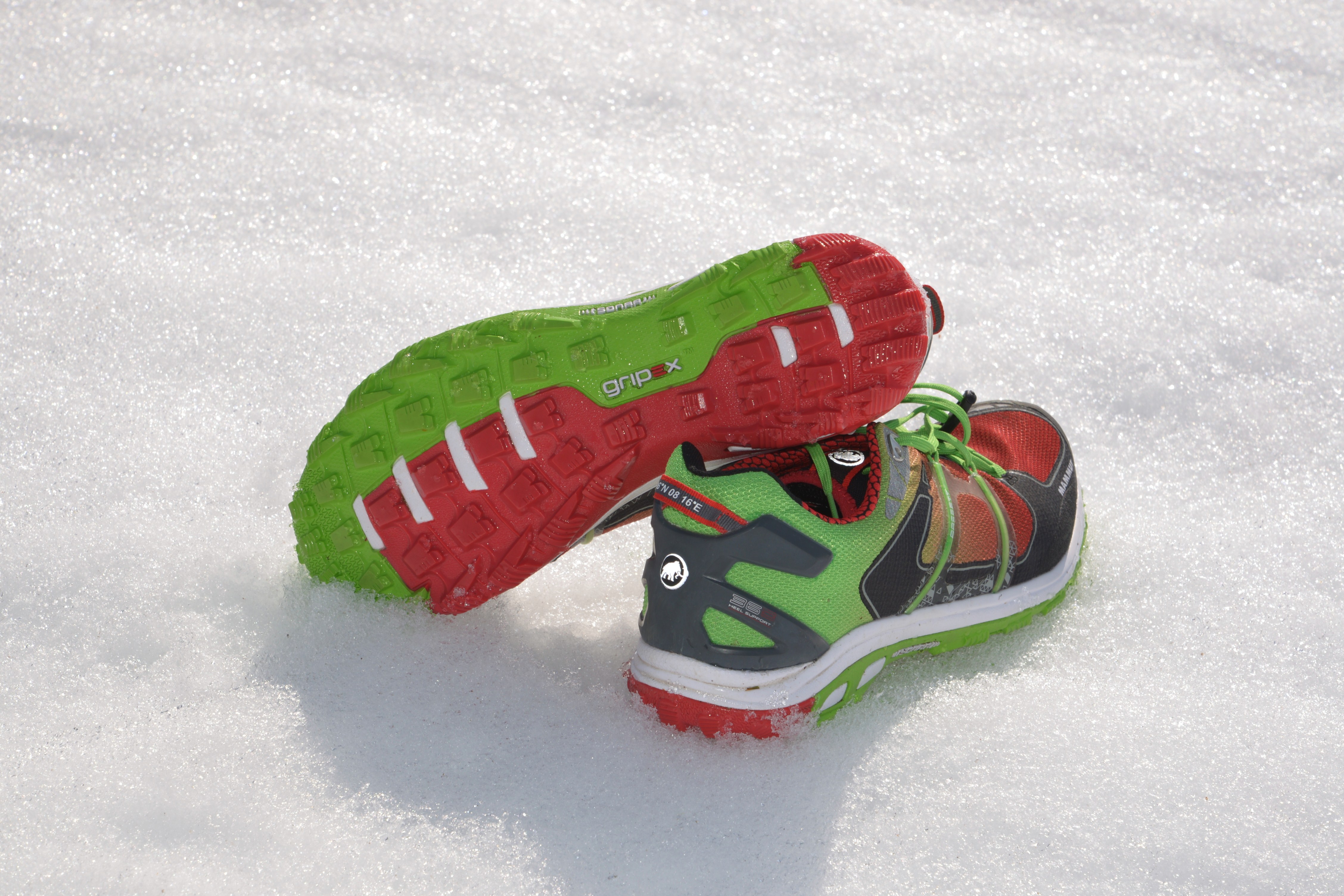 Recently I was writing less and running more, what has resulted from the task I undertook – I can proudly say that I was running and… testing. Testing is a new matter for me and the challenge is even greater because I have chosen as the test object, running shoes of my beloved Mammut (sorry for that intimate statement). Love is a beautiful feeling but it becomes even more beautiful, when has been tested in extreme conditions.
Love is a very beautiful flower but you have to have the courage to go look for it at the edge of an abyss.
/Henri Stendhal/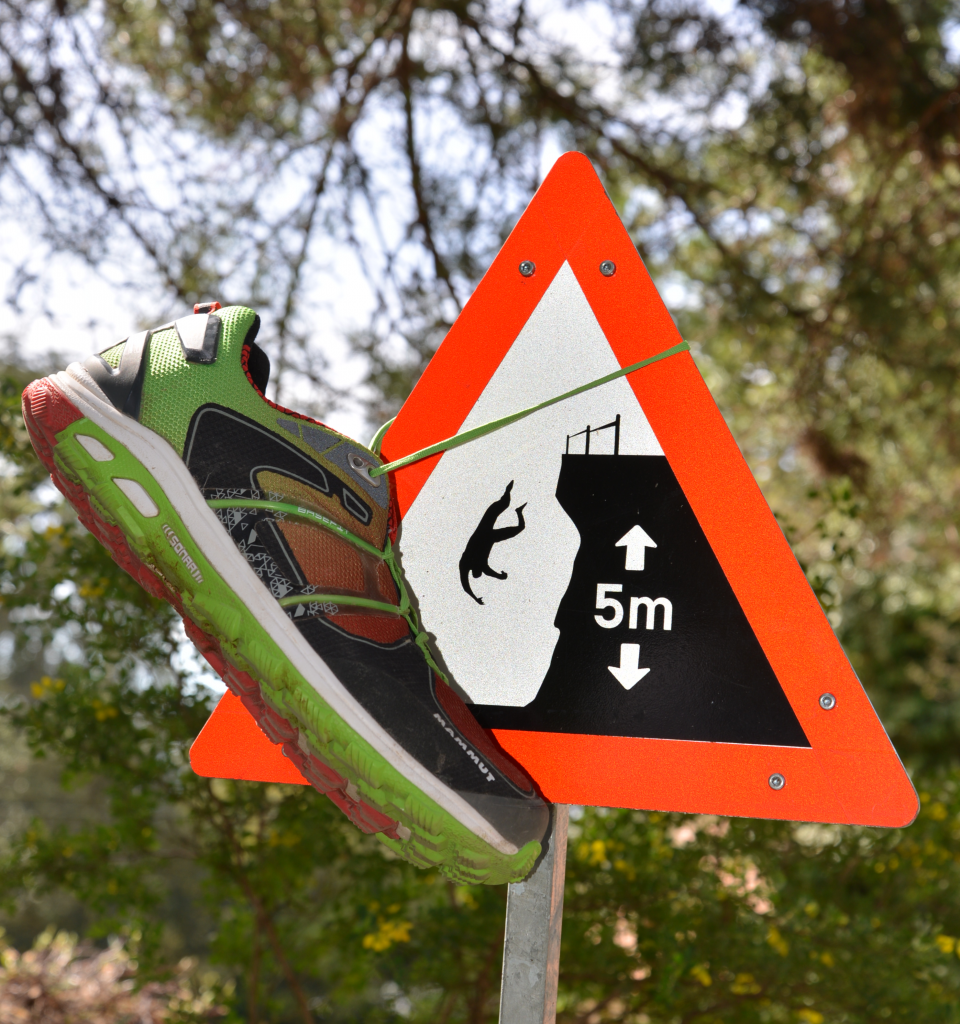 As it is usually happens with… the first time, I wanted to approach it in a special way. I was thinking long how to perform such a test in order to show in subjective and at the same time objective manner all the characteristics of mountain racing shoes Mammut MTR 201 Pro Low. I thought, and I came up with – the best to do it is my own way.
***
Shoes Mammut Pro Low MTR 201 appeared in my life in a black box with a red Mammut logo. They were additionally wrapped in original paper covered with the inscriptions MAMMUT. For running it does not have any meaning, of course, but it testifies to the quality of a product. Swiss watches have also couple of layers of packaging, through which you have to get through before the moment of putting the watch on the wrist. Out of the box and paper I quickly put shoes on my feet and went for a run… Oh, and I cut labels.
Alas, that love, whose view is muffled still,
Should, without eyes, see pathways to his will.
/William Shakespeare, Romeo and Juliet/
Just in case, I remind that the first run in new shoes should be short to avoid abrasions and blisters that often occur when changing running shoes to new ones. Is it due to the short 10 kilometers distance or maybe due to the resistance of my graceful feet or finally maybe thanks to the quality of shoes, nothing bad happened, and the first attempt was successfull.
It was love at first sight, at last sight, at ever and ever sight.
/Vladimir Nabokov, Lolita/
But one after another. Tested model has rave green-red color with a technical name spring-inferno; other available colors are inferno-black, dark cyan-sunglow and light gray-imperial. Shoes weigh 742 grams (UK size 10.5) what probably fits in with the manufacturer's data, who declares 676 grams in specifications for UK size 8.5.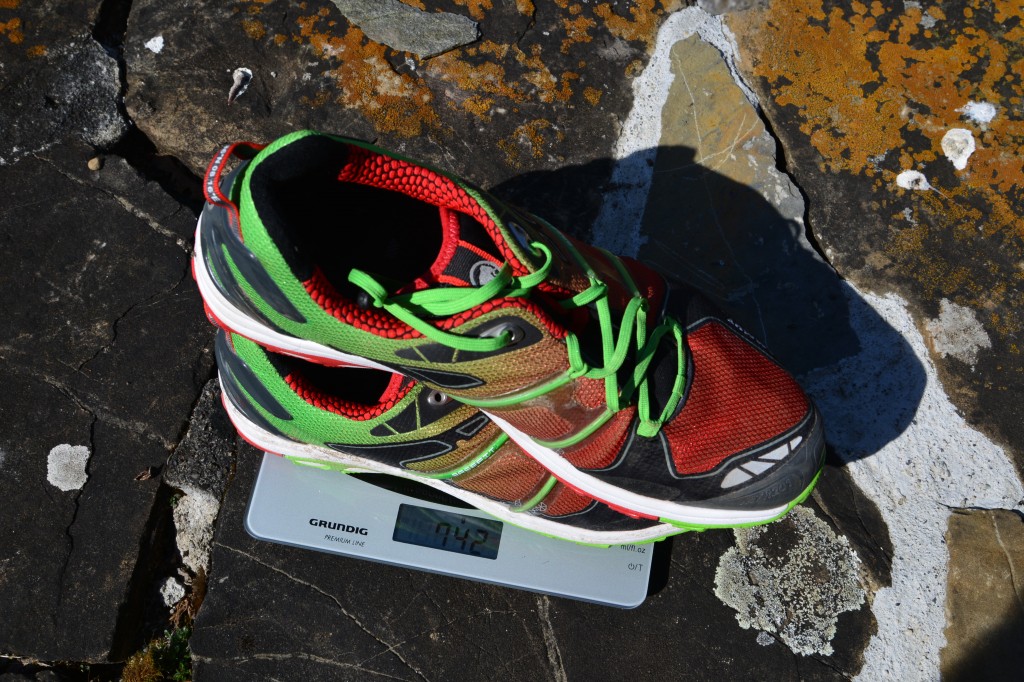 MTR 201 Pro Low are not waterproof, which can be a disadvantage when running in the rain, but thanks to that are lighter than models with GORE-TEX (they have an additional three letters GTX in the name) with more than 100 grams, which in turn can be important in long-distance races, when at the end of the route, each additional gram is felt in the legs. Instead of heavier waterproof membrane in this model was used lightweight mesh that dries quickly when soaked and allows feet to breathe.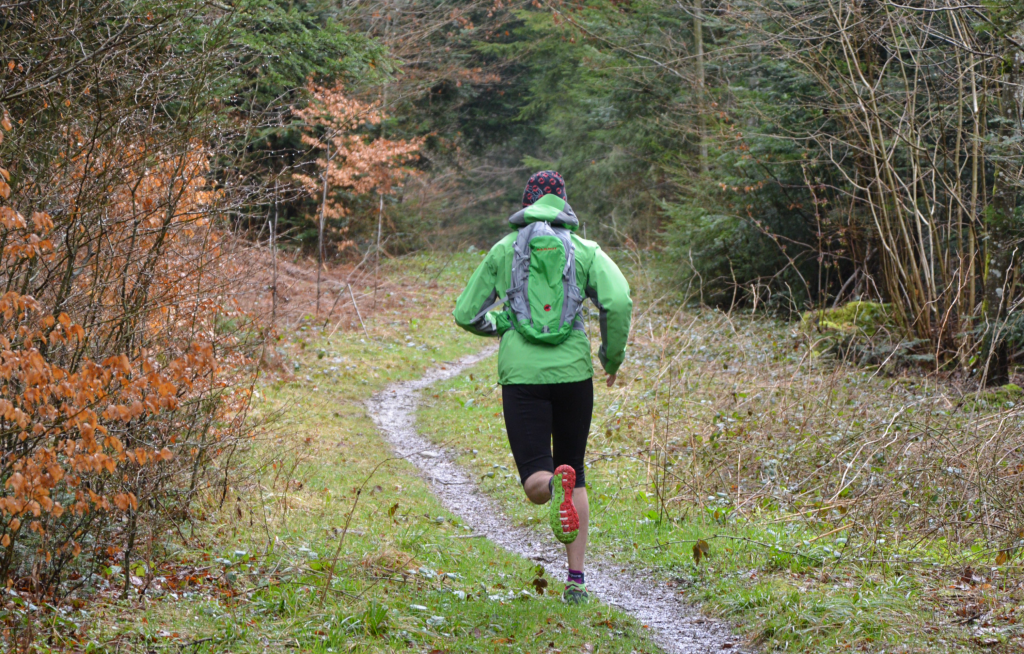 I was running a lot on wet, muddy roads, in the rain, and after the rain, near rivers and streams. The mesh get drenched quickly, but… as soon as the contact with water ends, it begins to dry quickly and if I am lucky enough that eventually the sun comes out, I return home with dry shoes. In addition, the lightweight mesh construction has good permeability and draws heat away from the feet. Why this happens is seen sharply when looking "through the shoe" against the light.
Fabrics used inside the shoe are soft to the touch and cause the foot feels comfortable. Outside, in contrast, in sensitive areas rubber reinforcements were used (Rubber toe cap) and heel support system (360 Heel Support). As described by Viktor Suvorov, the former soldier of Specnaz (Soviet special forces), in the book "Aquarium", materials used in commando's clothing should be from the lining side soft like woman's skin, and from the outside rough as leather of rhinoceros. Mammut MTR 201 Pro Low shoes meet these requirements.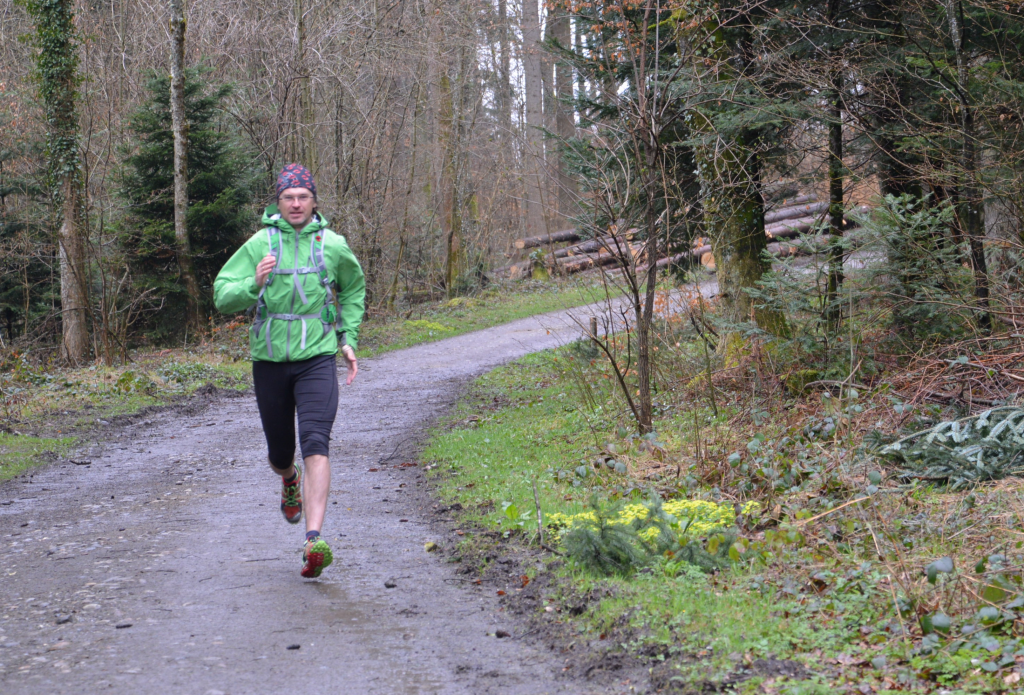 Now disputable case of laces or rather MTR Speed Lace System, which may but not have to please. As the name suggests, thanks to this system shoes can be quicker laced. With that point, I totally agree – this is done instantly. But then, the remaining "excess" of laces needs to be hidden somewhere. To do so, a special pocket in the shoe tongue is prepared but because it is already located under tied laces, it's hard to pack the endings. But when it's done, they seat there and not fall out. If needed, the laces can also be… just laced.
Aggressive bi-directional tread pattern holds up well (I would even say perfectly) on almost all types of surface. Mammut gave it the code name Sonar, because his form was modeled on the shape of sonar waves, spreading in all directions; in other words… "The hunt for Red October". I tested it on a muddy forest trails, sharp mountain boulders, gravel paths, and even in the snow.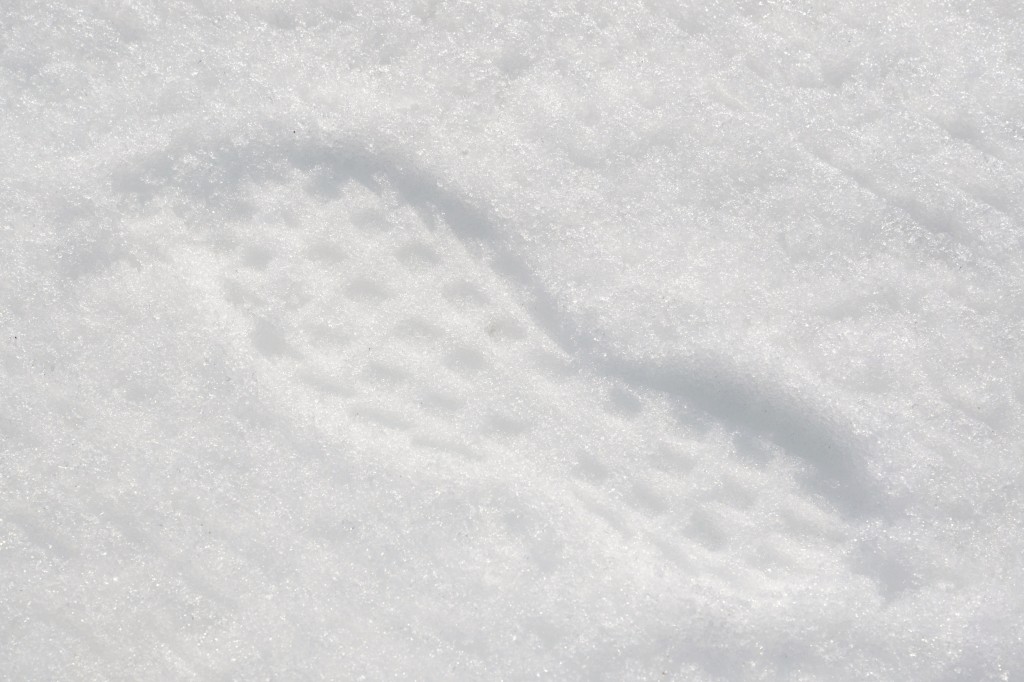 In bounce, as well as in acceleration and uphill running, shoes stick to the pavement as if they were glued. They behave the same way during the rapid run downwards combined even with jumps and provide excellent friction when braking in case slowing down is needed. There is almost no slip when landing on loose gravel and can quickly run further.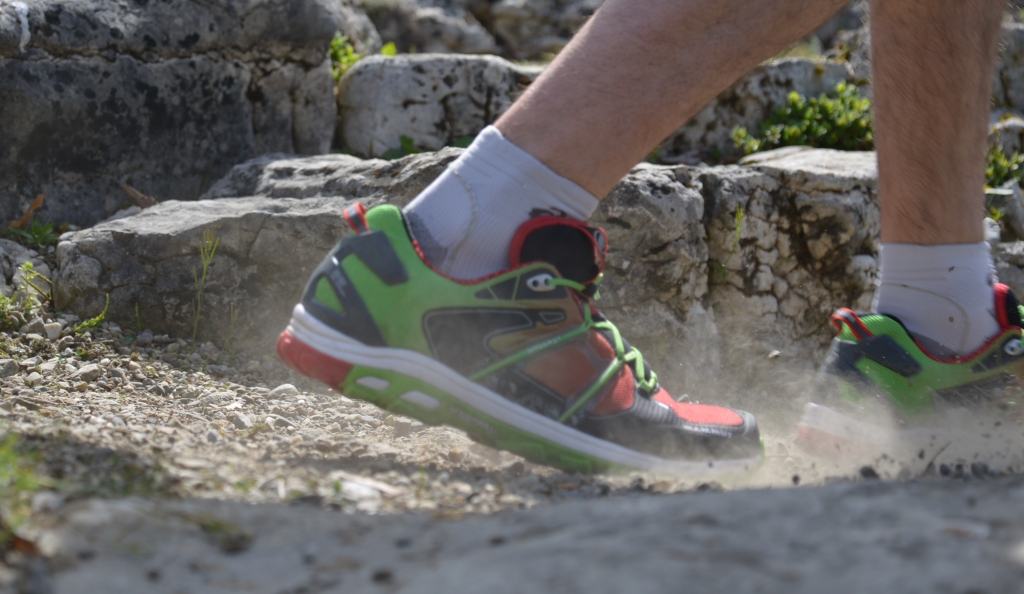 The only one dangerous adventure associated with shoes Mammut Pro Low MTR 201 I experienced on the banks of the river La Venoge. It was a one-off case, but it is my duty to inform about it. It is like with the side effects of medication – one patient out of a hundred will report pimples on… but it is necessary to write in the information leaflet that the medicine can cause a rash. Thus, I was running a beautiful route along the river La Venoge, to the north of its confluence to Lake Geneva in Preverenges. I was running and admiring the wild countryside, additionally wilder due to high water level in the river.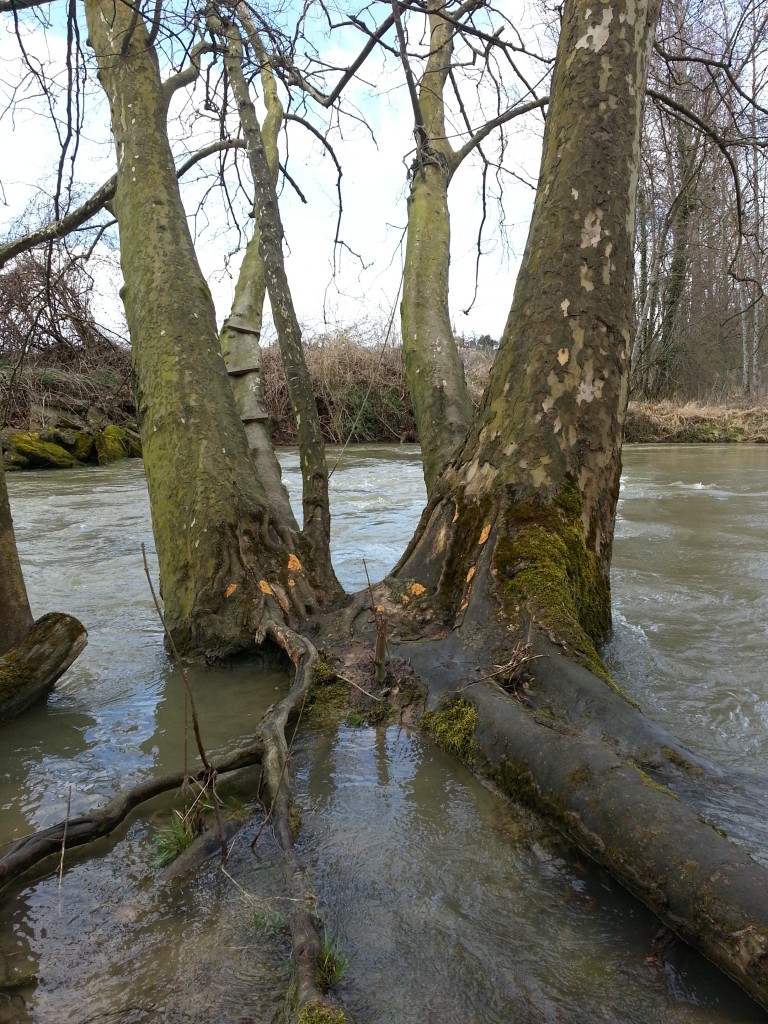 Was drizzling lightly. Suddenly, when I was looking to the side of the impressive waterfall, I ran on flat wet stones lying just off the coast and started dancing like mad cartoon characters who step on a banana peel. And, like cartoon characters, I was able to regain balance at the last moment. I was so surprised by the complete lack of grip, that I turned back and looked at the stones. They were, as I said, flat and covered with a green coating (moss?). I touched them with the shoe a few times and it was like on the ice rink. I went back to the same place some time later during fine weather and with some kind of shyness I ran on the rocks. This time they were dry and my feet have not moved even a millimeter. From this adventure I extrapolated such a request, that a wet moss on the stones is not a good ground for Mammut MTR 201 Pro Low shoes (for each shoes, I suppose).
To sum up, shoes Mammut Pro Low MTR 201 perform the job very well. The legs do not tire in them, adhesion to the substrate (except wet moss) is sensational, dry quickly, allow the foot to breathe and… they are pretty. It seems that we will run together for a very loooong time, especially that Swiss Irontrail (91 km) is approaching.
Love does not consist in gazing at each other but in looking outward together in the same direction.
/Antoine de Saint-Exupéry/
P.S. On the back of the shoe, on the handle helping to put them on the leg, there is a mysterious latitude and longitude… My natural curiosity forced me to check which point on the surface of the Earth represent the coordinates of 47 36° N and 08 16° E. I had to first understand in what format latitude and longitude is given:
degrees, minutes, seconds (DMS),
degrees and minutes (DM),
decimal degrees (DD).
After attempts in the converter of geographic coordinates, I came at last to the result, which indicated a point in Switzerland, in the canton of Aargau, in the district of Lenzburg in city of Seon, at Birren street, where exists… the factory and headquarter of Mammut. A real fantastic bull's eye!